Bringing reliable power to remote locations
Pairing green energy with fossil fuels seems an unlikely match, but a stronger relationship between renewables and oil and gas is in the interest of both sectors. Green energy is already delivering reliable electricity to remote well sites, reducing both the cost and the carbon intensity of operations.
Reliable off-grid power systems are fundamental to ensure the consistent flow of wells and pipelines. Several different types of equipment are used to monitor and control these assets, ranging from chemical injection pumps and remote SCADA monitoring, to onsite lighting and security systems, all of which require electricity to operate.
Providing uninterrupted power generation is critical to these operations, but many well sites are located in remote areas without existing infrastructure and often function off-grid. Remote areas also usually have a sparse population, with limited engineering and technical resources available to maintain these assets.
There is also increasing pressure for oil and gas companies to reduce their emissions and incorporate clean energy technologies into their operations.
Stephen Morgan, President and Chief Executive Officer of CEGEN, says that there are plenty of opportunities for renewable energy and oil and gas sectors to work together to create a reliable and affordable power supply.

"I believe that the true success of the energy industry is to merge the efforts and intelligences of both green and fossil fuels to meet the growing need globally for energy.
"The world doesn't really understand that the fossil fuel industry is a good steward of our precious environment and that the industry invests much of their money and resources to environmental impact reduction."
To mitigate this industry challenge, Mr Morgan and the CEGEN team of Darcy McIntosh, Jim Stewart and Corinne Steed have developed an innovative power generation system designed to exploit wasted wind power created by compressor cooler exhaust by converting the air flow into green energy.
The CEGEN Green Energy System generates electrical power on natural gas compressor stations, mining facilities and other industrial applications without adding to a site's carbon footprint. It does not rely on specific weather conditions, and therefore does not have the intermittency issues present with some renewable technologies, such as solar panels or wind turbines.
The system captures wind that is created by cooler exhaust on gas compressor stations and converts this air into energy. This turns the previously wasted exhaust into energy that can be used to help power the site, minimising the need for other power sources such as powerlines, micro turbines and diesel generators, which can be expensive to install and maintain.
The clean generated energy can be consumed directly by facility operations, stored or retailed back to the power grid.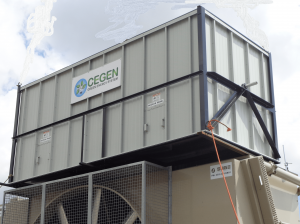 "CEGEN Green Energy is not just a single unit with remote site installation technology. It is a viable, cost-effective and environmentally conscious option to create, in the right application, a microgrid that could power your entire site. It could even generate enough power to spread that grid out to a neighboring facility with the same power needs," Mr Morgan said.
Using renewables to increase efficiency
Mr Morgan said CEGEN became part of the green energy landscape after realising that a combination of processes could actually be more efficient than just burning more gas to generate power.
"I realised that using combinations of energy recovering technologies could reduce the dependence of grid power and, with some forward thinking, help to build microgrids to power more than just a single site.
"The CEGEN Green Energy System takes a proven wind technology that was low efficiency and applies it to the controlled industrial environment of a cooler outlet to increase its efficiency to 75-80 per cent."
The CEGEN Green Energy System is easy to install, requires little maintenance and is scalable according to the needs of the operation. More importantly, it is very cost competitive per kWh and Mr Morgan said the company has been working hard to increase its product offerings.
"Along with the vertical single fan design we started with, we now have single and multiple fan horizontal cooler designs and the Vertical Series multi fan coolers that are very popular in Australian natural gas designs," Mr Morgan said.
"We have also improved our current designs to increase power generation without adding significant back pressure or increasing parasitic draw off the driver. This has been completed with ANSYS modelling and Dynamic Fluid Analysis of our full size testing data."
Wade Elofson, founder of Powered, a resource-focused business development company, said that with the falling costs of renewables, oil and gas companies should be looking at ways to implement renewable technologies to help power sites, especially in Australia where projects in remote locations can find it difficult to find a reliable power source.
"Electricity demand continues to grow in off-grid areas, driven primarily by resource sector projects. The cost of production of green energy is proving to be cheaper and more environmentally friendly than the energy produced from diesel generators, which have traditionally been used to power remote oil and gas operations."
For more information, please contact info@poweredaus.com.au or call Wade Elofson on +61 474 128 517.